C and K Coloring Book Contest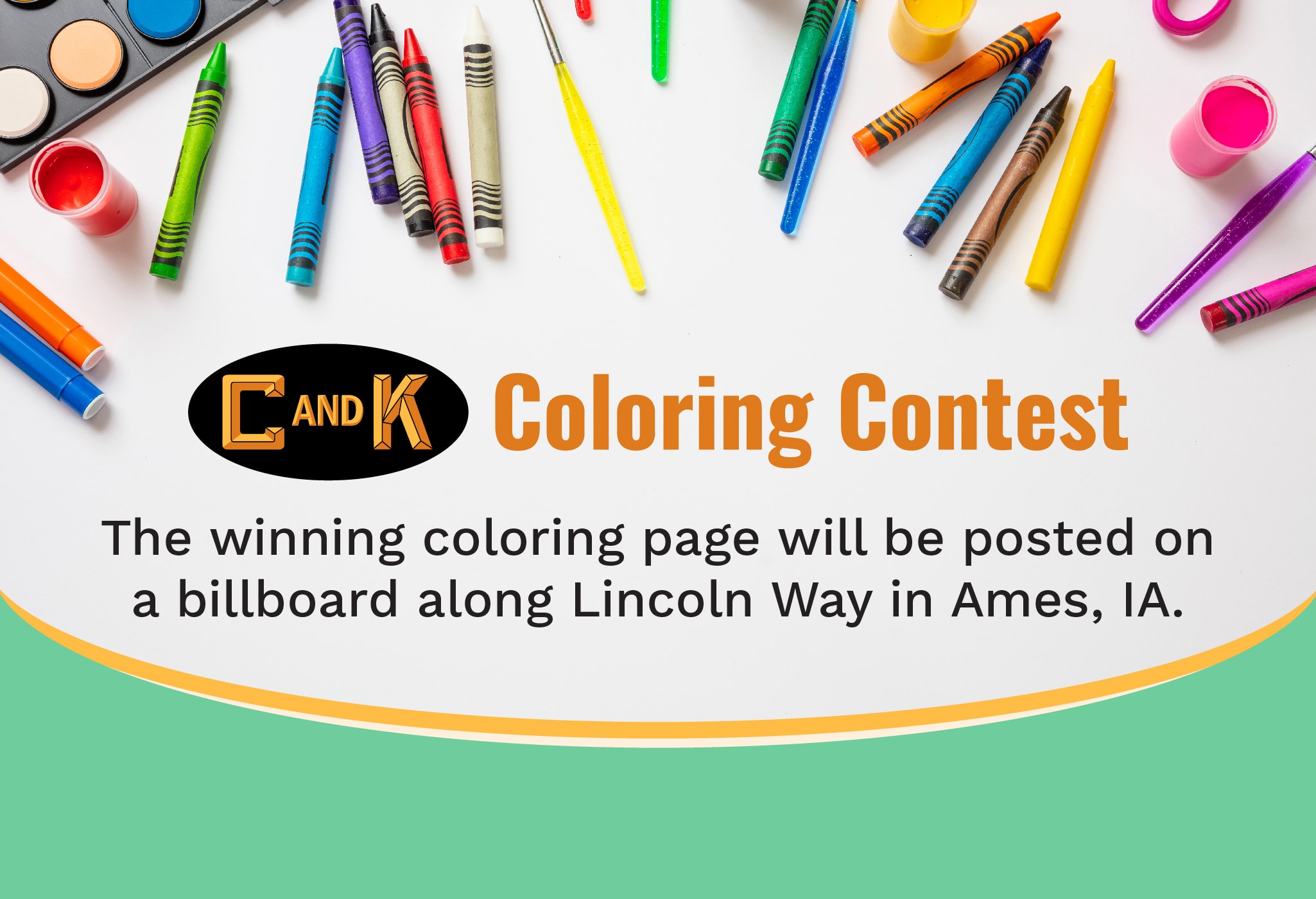 Rules:
Contest participants must be 10 years of age or younger.
Age groups for contest are divided into 5 and under, and 6-10 year old's.
One winner per age group is eligible for the prize of a $50 Pizza Ranch gift card for use at participating Pizza Ranch locations.
Winners will be chosen by C&K committee based on branding preferences.
One of the winning entries will be selected to be displayed on a C&K billboard
Employees and their immediate family are not eligible.
Submission window starts October 1, 2022, and ends October 28th, 2022.
One submission accepted per child.
No purchase is necessary for contest participation.
Instructions:
Get contest coloring page (last page of the C&K coloring book):

Pick-up a full coloring book in-person from C&K Inc, 2312 Edison St, Ames, IA 50010 (while supplies last).
Pick-up a full coloring book in-person at the C&K booth of the Ames EcoFair on October 1, 2022 (while supplies last).
Ask your C&K technician for a coloring book at your heating season tune-up (while supplies last).
Print a coloring page at home by downloading it from our website: Download Coloring Page Here

Color the last page of the coloring book. This is the page which contains our signature green and gold service truck being driven by a happy service technician.
Have your parents help you carefully remove the page from the coloring book with a pair of scissors.
Write your information on the pack of the page:

Name of child participating in the contest
Age of child participating in the contest
Town that the participant is from (or near if rural)
Name of parent or guardian to contact
Phone number of parent or guardian
Email of parent or guardian

Submit the original coloring page to C&K.

In person or by mail to: C&K Inc., 2312 Edison St, Ames, IA 50010
Submissions must be received by October 28th, 2022 for contest eligibility.

The winning coloring page will be posted on a billboard along Lincoln Way in Ames, IA on November 17th, 2022, and will be up for approximately 4 weeks!
After the contest, if you'd like your coloring page back it can be picked-up from the C&K Office at 2312 Edison St in Ames, IA - by no later than January 1, 2023.