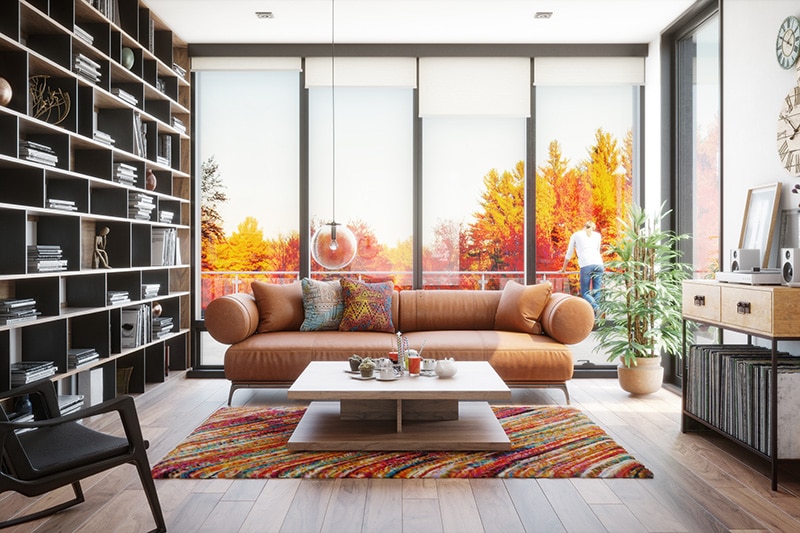 Ah, September! The month where we bid adieu to the warm embrace of summer and welcome the cozy, pumpkin-spiced vibes of fall. For homeowners, this change in seasons isn't just about swapping out tank tops for cardigans—it's also the perfect time to get your home ready for the cooler months. Let's dive into a fun and practical checklist to prepare your home for the wonders of fall!
1. A Fresh Filter:
As you're spending more time indoors, ensure the air quality is top-notch. Replace the filters in your furnace and air purifiers. Not only do fresh filters improve the air you breathe, but they also play a crucial role in protecting your equipment. By preventing dirt and debris from entering your systems, they extend the lifespan of your appliances and ensure they run efficiently. A small change with big benefits!
2. Embrace Humidity:
As the crisp fall air sets in, indoor humidity levels can plummet, leaving our skin dry and our sinuses irritated. A whole home humidifier not only maintains comfortable moisture levels but also preserves the integrity of wooden furniture and flooring. Furthermore, it can improve the efficiency of your heating system. Consider investing in a whole-home humidifier. And guess what? We're offering a sweet 10% discount on them this month!
3. Say "Hi" to Your Thermostat:
While the turning of the leaves indicates nature's transition, your thermostat is your home's signal. As temperatures dip, having a programmable thermostat can make a world of difference. If you have a programmable thermostat, now's the time to adjust its settings. Set it to lower temperatures during the hours you're typically out of the house to save on energy bills. Plus, some advanced models can even give you reminders about maintenance or filter changes, acting as your personal home assistant. Adjusting your settings for the upcoming cooler nights will make sure you're not caught off guard by an unexpected cold snap.
4. Furnace TLC:
Heating season is always a good time to ensure your furnace is in tip-top shape. Schedule a furnace maintenance check. Think of it as a spa day for your heating system—it might not come out with a fresh manicure, but it'll surely keep your house warm and cozy! Regular maintenance can extend the life of your furnace and prevent unexpected breakdowns. Plus, a well-maintained furnace operates more efficiently, which can save you money on your energy bills.
5. Member-Only Perks:
If home maintenance isn't your cup of tea (or cocoa), consider our exclusive membership. You'll get priority service, discounts, and annual check-ups. Let professionals handle the nitty-gritty while you focus on which fall candle scent to choose next!
6. Gutters – Not Just for Leaves:
It's time to show some love to those overlooked gutters! As leaves begin to fall, they can quickly clog up your home's drainage system. A cluttered gutter can lead to water damage, foundation problems, and even unwanted critters making a home. By regularly cleaning them out, you ensure smooth water flow and prevent potential costly repairs. Plus, it also gets them ready for the colorful fall foliage that will inevitably gather there.
7. Window Dress-Up:
Feel a draft? It might be time to seal up those windows. Weatherstripping can be an easy DIY task that makes a massive difference in keeping your home cozy. Plus, it's an excuse to visit your local hardware store—who doesn't love that?
8. Layer Up:
Swap out those light summer linens for heavier bedding. Flannel sheets, chunky knit blankets, and plush duvets call your name. Imagine curling up with a good book in a bed that feels like a warm hug! It's not just about your bed, though—your entire home craves layers too. Thick curtains, cozy rugs, and added insulating materials help keep the warmth in and the cold out. This not only makes your home feel snug but also reduces the strain on your heating system. Additionally, integrating seasonal decor with blankets and throw pillows can seamlessly blend style and warmth in your living spaces.
September might be the end of summer barbecues and beach trips, but it heralds the start of cozy evenings by the fire, hot cocoa nights, and the beauty of fall foliage. By taking a bit of time now to prepare your home, you'll be all set to enjoy all the comforts and joys of the season. Happy fall, y'all! 🍁🍂🏡